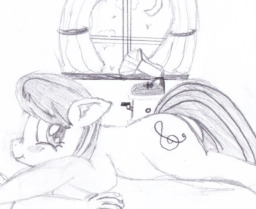 Source
[2nd Person] [You X Octavia]

"It was not the first time that you had met under these circumstances. Often you would enter each other's bedrooms, seeking companionship only a shared loathing of electronic music could bring together."
After living in Vinyl and Octavia's house for a while, one will notice that not much sleeping gets done. And when sleep is not an option, company is.
Often meeting in each other's bedrooms, you and Octavia could often talk the night away. But once in a while, just relaxing with some music on is best.
Chapters (1)