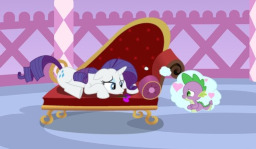 Source
While preparing for a week away in Canterlot, Rarity rediscovers the Fire Ruby that Spike had given her the day before his birthday, which not only brings up some fond memories, but also brings her to a startling revelation - she's in love with him! But can a pony really love a dragon? That is the one question that strikes fear into Rarity and holds her back from confessing her feelings to him. Her own friends may approve, but surely the upper class of Equestria won't.
Throughout her trip, and the week leading up to it, the white unicorn mare finds herself struggling with her emotions, trying to decide whether to embrace her new-found love or just let Spike down gently. But along the way, all her friends are there to reassure her and offer their advice. While all this is going on, however, Spike notices Rarity's erratic behaviour, and takes it as a sign that she doesn't even want to be friends with him anymore; so he decides to try his luck with somepony closer to his age...
Special thanks to krieger11 for providing the cover art.
Chapters (7)