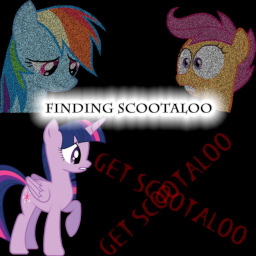 Source
- THIS IS ONLY THE FIRST PART OF THE FINDINGVERSE. MANY CHARACTERS ARE OOC, BUT ALL WILL BE EXPLAINED IN DUE TIME. -
First story in the Findingverse.
Ever since Rainbow Dash adopted Scootaloo, she's been trying her very best to be the best big sister she can possibly be. And so far, she's been doing a damn good job at it too. And tonight, her, Applejack, Rarity and their younger sisters are going to have a big sleepover! Life couldn't get any better.
But then Sweetie Belle wakes up screaming, and by the time Rainbow gets there Scootaloo is already gone. Taken into the night by a mysterious attacker. And the only evidence left behind is Sweetie Belle's claims of somepony with a rainbow mane...
With the town against her, Rainbow Dash goes is forced into hiding, lest she be left to the angry town's mercy. With only one friend able to help her, she turns to Twilight Sparkle to help her not only clear her name, but to find her little sister.
Now Twilight finds herself setting out into the dark, searching for the missing Scootaloo with only the descriptions of a distraught filly to guide her. And as she sets out into the cold, unforgiving world of crime, what will she find? She wants to prove her friend's innocence and save a missing filly, scratch that, she needs to. But with everypony against them, danger lurks around every corner and she has no idea if what is being presented to her is even correct.
Caught in the threads of a web of lies, Twilight Sparkle needs to learn what is right and what is wrong. But how can she learn when the lies are so close to home?
...And what if Rainbow Dash isn't innocent? What if she's... Guilty as charged?
Chapters (8)