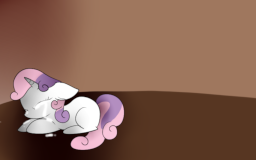 Source
Scootaloo has been diagnosed with a disease that constantly eats away at her wing bones, thus they never grow. With a possible cure and a limited time, Sweetie Belle will stop at nothing to assure her friend can fly.
But can Scootaloo deal with the possible sacrifice that must be made in order to live her dream?
A true friend will stop at nothing to help others achieve their dreams, even going so far as to lose their own dreams.
Or their own life.
Chapters (3)