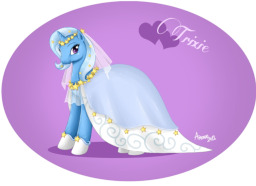 While touring Canterlot with her new magic act, the Great and Powerful Trixie finds herself invited to the royal wedding at the castle.
But who's getting married? Why did they invite Trixie? And why are those ponies from Ponyville attending?
The story art is drawn by the talented Amenoo at Deviant Art, originally commissioned by EvanKestral. Used with permission.
Chapters (1)