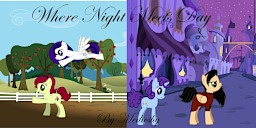 Source
Time steadily marches in Equestria, for some more than others, and with it brings change. Relationships between races and nations are strained, the country itself is divided in two, and every day ponies fight and die for their nation.
This is the story of those left at home, left behind, and living in a world they never dreamed of. Can they cope with what seems to be the end of harmony? Or, when pushed far enough, is it ponies that move nations?
The final installment of Ink Well's tale. The question is: where is he?
Chapters (27)