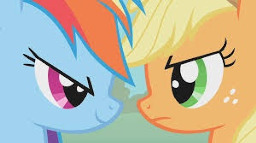 Source
After some contemplation, Rainbow Dash and Applejack decide to duel in an eating contest to crown the, "Most Daring Pony." Although, the determination the two share can go long ways; too bad they waste it on something as silly as this.

WARNING
This story contains fat and inflation material.
You have been warned.

What people have been saying about my story!
"



" — Erick22
"Okie dokie lokie!" — Shanenator
"... Dos measurements" — Flutter_Sniper
Chapters (1)