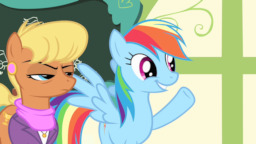 Nagatha Harshwhinny was a professional. When she set a goal, it was done. When she took charge, production soared. When she spoke, ponies listened. A lifetime of strict regiments and no tolerance for slouching instilled a discipline that rivaled that of Canterlot's Royal Guard; a template for order and leadership.
But Harshwhinny's fateful visit to Ponyville changed all that, and made her realize that absolute, 100%, crystal-clear professionalism came at a terrible price...
Her.
---
A bellowing shout out to my wonderful proofreaders Pearple Prose, JeffCtv, OkemosBrony, and Skeeter The Lurker.
Rated "Teen" for suggestive themes, mild adult content, alcohol consumption, and someone who had TOO much fun writing this.
Enjoy!
And Merry-f**ckin-Christmas!
Chapters (1)