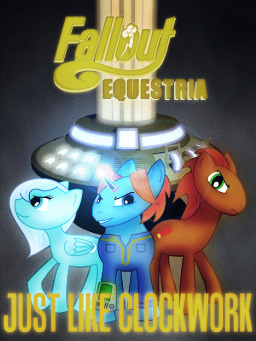 Compass, a happy maintenance technician and resident of Stable 52, uncovers an unbelievable secret hidden deep within the massive shelter that he calls home, and is forced to confront a mystery that has gone unsolved for over two hundred years:
On that fateful day, when Equestria needed him the most, where was Doctor Whooves?
This fanfiction is based on the immersively epic Fallout Equestria by Kkat. You can read Fallout Equestria by Kkat on Equestria Daily
The Fallout: Equestria logo used in the cover art was designed by DotRook and, according to his original deviantArt post, he allows usage in supplementary materials created for and associated with the series. Images really do make a difference, so, due to his awesomeness, he has my deepest gratitude.
Chapters (16)