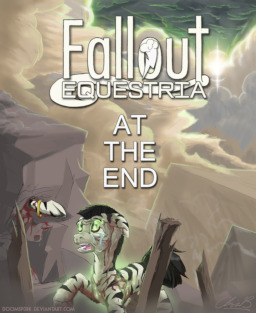 At the end of the war, after the blast of balefire tore his city asunder, a ghoulified Zebra is left to question if his actions were right, and if his punishment is as fitting as the stars have implied it to be. He will have to fight for his life after losing everything, but is there really something left to hope for in the hellish lands that he inhabits, or will he be doomed to an existence of suffering for his sins?
A short Fallout: Equestria sidestory written in an attempt to see how I can do without some of the things I always rely on with a normal fic. I would love to hear any sort of feedback on it, positive or negative, but overall I hope you enjoy it all the same.
Here's a fantastic reading of it done by Plagen Shiki over on youtube if you want to listen along!
Chapters (1)