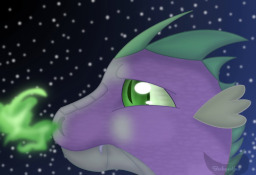 "Dragons are not meant to live with ponies"
Spike thought that he had found his place among ponies, especially after the dragon migration.
But things didn't turn out the way he thought.
Life had other plans for him:
It has been more than three years since Spike was banished from Ponyville and shunned by his friends.
He now lives a relatively quiet life in the Everfree Forest.
But what happens when events lead spike to look back at his old life, and take him back to the times where everything went wrong? And what happened to Spike after Pony kind turns her back on him?
Chapters (11)