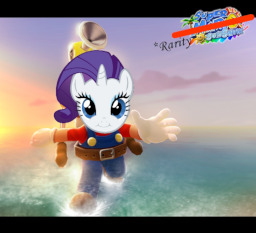 Princess Celestia wants to establish diplomatic relations with the mushroom kingdom and Rarity is sent to make a good impression. Unfortunately the island where the meeting between rulers will be held is covered in a sticky paint-like goop, and Rarity is apparently to blame. Meanwhile the true culprit, a shadowy version of Rarity, is on the loose and has foalnapped Sweetie Belle.
It is up to Rarity to clean the island, rescue Sweetie Belle, and win the favor of the islanders before time runs out.
Will she succeed?
Will she thwart Shadow Rarity goopy plan?
Will she ever get to enjoy this island resort?
Chapters (1)