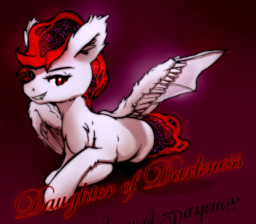 Source
Many people have many theories about Scootaloo. Some think she's an orphan. Some think she's part of an abusive household. Others still worry that she's somepony's illegitimate offspring that's hidden away.
However, the truth is far from that. She has a loving mother and father, and she means the world to them both. They've gone to great lengths all for her.
However...they're just a little...strange. Especially since neither one is comfortable with coming out except at night.
Rated Teen for some adult language.
Partially inspired by this story by Colonel J.
Edit: New Cover Art by G_Haze! Found here.
Edit 2: And G_Haze has decided to update the cover art, and damn does it look good.
Chapters (11)