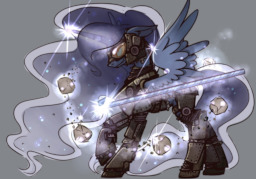 This story is a sequel to Days of Wasp and Spider
---
Believed dead by their creators, the ponies that will become Celestia and Luna have broken their mental conditioning and escaped into the wilderness. Here they plan the revolution that will free all ponykind, knowing that it is only a matter of time before their ruse is discovered.
Back in their underground arcologies, the ponies' erstwhile masters deal with the consequences of the escape, all the while unaware that something lurking at the bottom of space-time wants them all dead.
A Soot-Covered World, book 2.
Canon species only/no humans.
This story has nothing to do with the Holocaust.
Art by InLucidReverie, used with permission.
Chapters (46)