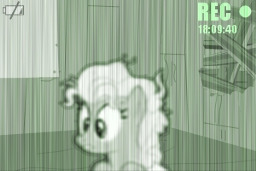 Not long after her release back into the general population of Ponyville, Screw Loose vanishes without a trace. During a search of her home one week after she was last seen, a video recording of her apparent final hours is found. A video explaining that she was being hunted by creatures which evaded sight. A video intended as a warning.
A different perspective on "Peripherals" by electreXcessive and Flint Sparks.
Cover art assembled from various screen captures and vectors, mostly from here.
Chapters (1)