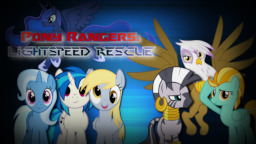 Key2DestNE can't write this story anymore. So I need someone else to take over.
Takes place after the second season. Trixie, Gilda, and Zecora are giving a chance to show they have reform after Luna was reform from Nightmare Moon. They learn many lessons about being a ranger and even the Element Rangers show up in a few chapters.
Trixie as Rescue Ranger Red,
Zecora as Rescue Ranger Yellow,
Depry as Rescue Ranger Green,
Vinyl Scratch (DJ Pon3) as Rescue Ranger Blue,
Gilda as Rescue Ranger Pink,
And much later Lighting Dust as Titanium Ranger.
Cover made by Zenitram.
Chapters (4)