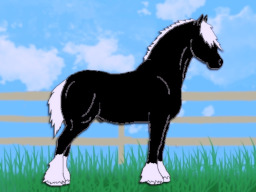 ---
Currently Undergoing a Rewrite
---
Onyx is a medieval war horse owned by Sir Marcus. Though he led a hard life filled with constant training, battles, or tournaments, he would not have it any other way. Especially At the jousting tournaments where he and his owner reveled in the spotlight of winning, and took vast pride in making sure they always performed at their best.
One day while taking his master to a neighboring castle everything he had known came crashing down. He was now in a land unfamiliar to him and had a new master. Everything seemed out of place for how he expected things to be, but he did not know if it was from his injuries of that fateful day or something else.
Unknown to Onyx he has been taking to a completely different world through arcane means. This is his story about his new life and the new challenges he must face.
--- Alternate Universe tag ---
I was asked in a message as to why, and that is because of two reasons.
1: I do not like the character of Discord very much. I am disregarding that whole lets reform him episode so he is still locked in stone, sitting in the Canterlot Palace Gardens being used as a rest stop for birds. I did think about just having some reason to lock him back up though.
2: Twilight is not a princess in this story. This has a possibility to change though. While the course of the story is planned mostly to the end, the actual writing might necessitate changes.
Chapters (3)