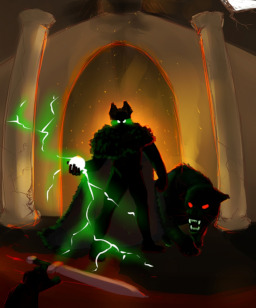 The Well of Eternity a place lost to time, is the birthplace of Equestria's various deities. King, a mortal man from Earth slips between the cracks that separate worlds. Landing in the unforgiving badlands of greater Equestria, he aimlessly wanders through the unforgiving terrain. Eventually enslaved by diamond dogs, for ten long years he labors under their cruel whips, eventually escaping his captors only to become lost in the depths of Equestria's vast underworld. Dying of thirst, the man spies the Well of Eternity and drinks his fill. Its waters more than quench his thirst; a metamorphosis occurs and changes him, for good or ill none can tell. What fate shall befall this man, the Great Slave King?
Book one of four, book two can be found at The Book of Water: The Marriage of the Slave King
TV Tropes Page: The Great Slave King: Special thanks goes to gentlereader Abstract Indigo
Cover art by PoisonSt.
Chapters (32)