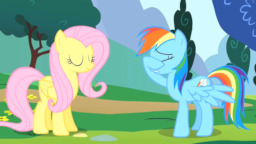 Source
Fluttershy Has a Secret, and has put off telling her friends about it for a very long time... But after there bonding/terrifying experience in the Ruins of the Royal Pony Sister's castle, she feels it is Finally time to Share Her deepest Secret with them.... But remains worried they will shun her...
The Results.. are not as she Expected.
Edit: Special Thanks to Phoenix Avalon for going over the Fic and fixing it all up nice and tidy!

Chapters (2)