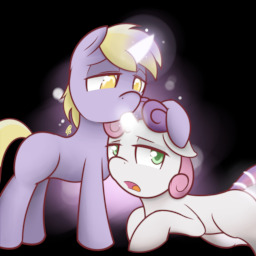 How do we start this? Let's start with from the beginning: Dinky has noticed that she has a little crush on somepony. And she finally has decided to tell the special somepony at a sleepover that Dinky has invited her to. Who is this special somepony? Read and find out!
"Jeez, I wonder how Sweetie Belle is going to react to Dinky's feelings?"
"Um.......Cameron?"
"Yeah Taythen?"
"You're still typing."
"Dammit!"
(Description, title, and tags has been changed from it's original thoughts for plot changes. But, still rated teen for mild cussing.)
Chapters (2)