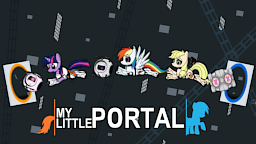 This is a crossover with the portal series, Doctor Whooves and other scientists at Equestria Laboratories are about to activate their newest and best A.I system yet, however something isnt right. And its up to Twilight and her friends to save it. However it won't be that simple
However a special thanks the ChristianCartoons for the idea of this Fanfic.
I hope you enjoy reading it, and feel free to ask questions if unsure with something in the story.
Thanks to Jacknife557 for editing.
Chapters (5)