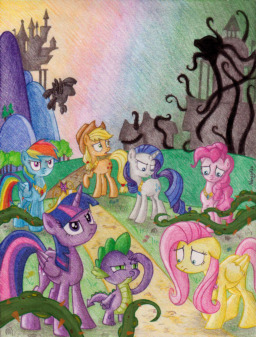 Source
Since coming into her own as Equestria's newest ruler, the newly minted Princess Twilight Sparkle has handled her responsibilities with grace and skill. Despite her new duties, Twilight has not by any means forgotten her lessons on friendship, nor about the ponies that taught them to her. These six friends are nothing short of inseparable, and the magic inside them is stronger than ever!
Still, there is evil in Equestria, an ancient one which only pure chance could have allowed to return. It is the source of fears stretching back to the time of Starswirl the Bearded, and even the Elements of Harmony alone may not be enough to defeat it.
It is up to Twilight and her friends to restore peace to Equestria, but this villain will test every ounce of their resolve, pushing them to their limits and beyond. And for Twilight Sparkle, there will be one more difficult lesson to learn about being a leader, and a friend. Without the guidance of her mentor or even her friends, she must decide for herself what sacrifices are acceptable, and if they're even hers to make in the first place.
Chapters (46)