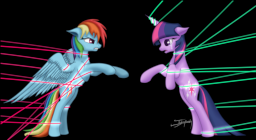 We were friends.
We were heroes.
Then, we were lovers.
We followed our hearts, and in doing so we became traitors. Now we'll run.
Why is it wrong? Can there really only be one way to love, and all others are wrong? Most importantly, why are we hated for love?
Be sure to check out my spin off story to this one (Eyes Unclouded)
Many thanks to my awesome editor pinkiepie17
(image by Jykinturah from deviant art)
Chapters (18)