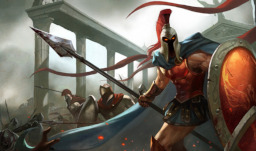 Source
Pantheon, known as the Artisan of War by the governing bodies of every city on Runeterra, has fought in more battles than anyone can remember, slaying countless enemies with his mighty relic-weapons and unparalleled skill. A mighty warrior, Pantheon lives for the thrill of battle, revering combat in all its forms.
But Pantheon has a secret.
Deep down, he has always desired to leave the battlefield behind... to be a baker.
Due to the untested magic of a rogue mage, Pantheon's secret wish just might be fulfilled, and then some.
Crossover with League of Legends. Minor knowledge of the game may be helpful, but is not required.
Chapters (12)