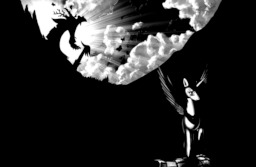 Source
When Discord returned to Equestria, after a thousand years of restless imprisonment, he was the embodiment of insanity. When the good Ponies of the empire heard of his intentional release, they were flabbergasted. Why let this maniac roam free and wreak his "Chaos" everywhere? However, soon after his release Discord began to calm down. He was seen to possess a strong ethic and, an admittedly sporadic, reserve.
After a while Princess Celestia saw fit to put Discord to work, "for the good of Equestria." His most recent charge was to write a book on Chaos. Discord however, has other plans. He has been conflicted about the nature of his release and subsequent freedom. Ultimately he becomes obsessed with finding out the "real" reason he was freed.
---
Credit for the amazing cover art for this fic goes to the generous alexmakovsky on deviantart, and the image itself can be found here.
---
This takes place in a Season Four cannon that exists without Rainbow Power and ends before the Finale, hence the AU tag. I might try to figure out how to canonize it fully at some point, but I'm not holding my breath.
Chapters (16)