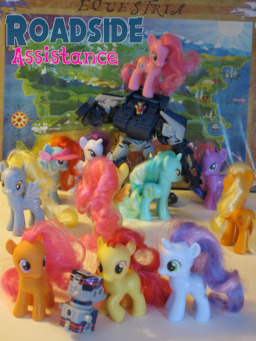 (Written in a way such that a knowledge of either MLP:FIM or Transformers in general is not needed to follow and enjoy this story.)
"Sup? I'm known as Breakdown; Decepticon Recon and 'Enforcement' specialist. Until recently, I was living pretty well as one of the Decepticons in the service of Lord Megatron himself and as the assistant to the medic and my best friend Knock Out. Then, I stupidly got myself killed.
Or so I thought, since I'm pretty sure what happens after death isn't 'finding yourself both alive and chained to the back of a wooden barn'. I have no idea what's going on, or if I actually am alive, but one thing's for sure: this isn't the same planet I was on before. Namely; there are bunch of these horse things, all kinds of colors and combinations, who call themselves 'ponies' and are really big on this whole 'friendship and harmony' ideal.
Except for the unicorn driving me crazy with an endless deluge of questions about humans and cybertronians, another 'regular' pink-colored one who I'm convinced is trying to kill me with sugar, and the midnight blue one who has all the unusual horse parts and keeps trying to find justification so she can send me to their moon, even though these creatures don't appear to have any kind of space travel technology.
Honestly? This place is like my own personal little patch of Hell. I may as well be the last Cybertronian alive anywhere, as I can not contact any other members of my kind, and these ponies seem way too happy for me to entirely trust their intentions as wanting to be my 'friends' as they put it. Yet, at the same time I feel compelled to stay, as if there's something I need to do here, something to find. I guess in the long run it will be okay, as long as I can keep wrestling space bears when I'm bored and the scary yellow pony isn't looking."
Chapters (3)