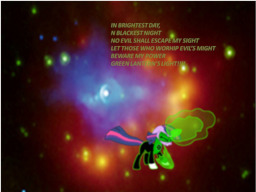 "TWILIGHT SPARKLE OF SECTOR 2812, YOU HAVE THE ABILLITY TO OVERCOME GREAT FEAR, WELCOME TO THE GREEN LANTERN CORPS!!!!!!!!"
What if instead of going to the summer sun celebration Twilight was called into the Green Lantern Corp to be given the power to fight Nightmare Moon!
A spin off from Crisis on Infinite Twilights written with defender2222's blessing and permission.
Twilight vector is Green Lantern Twilight Sparkle and it belongs to Deviantart user Bronyboy.
Chapters (12)