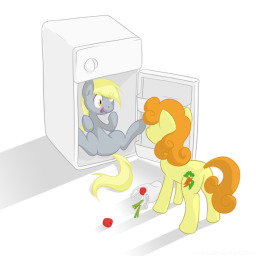 Source
After a tiring day at work, Carrot Top trudges home. As usual, her cross-eyed roommate, Derpy Hooves, has emptied the fridge. Nothing out of the ordinary.
However, when Derpy comes down with a case of incessant itching and what's colloquially known as "the herp walk," Carrot's day is about to become... not so ordinary.
Inspired by an episode of "2 Broke Girls". (Accordingly, Derpy is analogous to Caroline. Go figure.)
Thanks to Sage Runner, ValorlordV5, RoboRed, and MarineMarksman for editing.
Rated Teen for some language and raunchy humor. Sex tag is for sexual references in dialogue. Also, herpes.
Chapters (3)