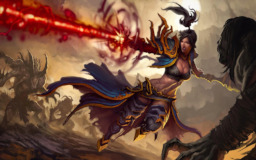 Source
Diablo crossover.
Act one: After Arcana uses an incomplete portal she gets transported to a world full of potential. But what she brings with her could be too much for this place to handle.
After all, what could one do against such great evils.
I have since abandoned this story, to meet my current criteria this story would need to be re-written from the ground up. I do not recommend reading this. One day I may end of coming back to this, I still see potential in it. But do not trust to hope.
Chapters (5)