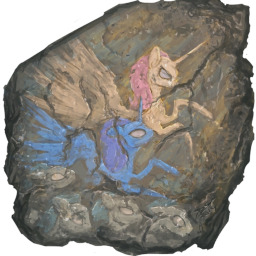 King Sol and Queen Radiant: loving parents to the princesses in the more mordant of times. Being a civilization of love, they end up taking in an injured unicorn from a dark, wild forest; a forest that engulfs the underside of the mountains housing their secret city. Not only does he come with injuries, but stones as well. Stones with odd markings in some sort of lost language. Up until now, Sol and Radiant always thought they were the only civilization…. But the curvy-horned horse seemed to have proved them wrong.
Yet questions arise: Where is he from? Who is he? And why does he have such a different coloration?
A/N:
---
I would like to thank Cerulean Voice who could be considered my Co-Writer and friend, BucketHelm for being my editor and grammar checker, and my many readers for helping me to continue on. This story btw is in consent editing when it comes to the mistakes.
Image can be found [url=http://assasinmonkey.deviantart.com/art/Equine-Artifact-429314848here; I did not make it.
Chapters (4)