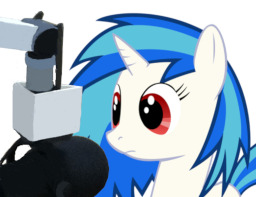 Vinyl scratch isn't always spinning records at parties. She has a more settled down life than most people think! As Vinyl works at her day job at 105.3 FM "The Horn", she finds lost love, meets new people and goes back to her record spinning roots! But when all is said and done, who will she end up with?
-I'd like to thank DawnFade and Frozenpyro for being my pre-readers and editors!
-the cover image was made by yours truly from an amazing vector, one of which I couldn't find the creator of until now! I'd like to thank mkovic.deviantart.com for the vector! My apologies for not finding the person to credit sooner.
Chapters (6)