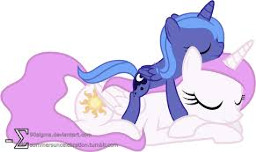 There have been many tales of magic in history. But none have been quite like this one.
When two brothers that love each other awaken a strange power through the reaction of love and a nuclear explosion are sent spiraling into a familiar world, they must struggle to find their place.
Of course, there has to be a twist.
You see, they weren't exactly sent to modern day Equestria; instead, they were sent to the ancient kingdoms of the pre-Hearth-Warming period. They didn't retain their bodies, either...
Now, looking like perfect copies of a young Princess Celestia and Princess Luna, they must convince the ponies of the land that they are not what they appear to be, while attempting to return to Earth.
Picture by 90sigma.
Chapters (7)