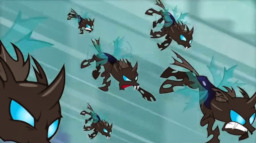 Major Sky Buster had been put out to pasture long ago, no longer able to keep up with the strenuous career of a Royal Guard. Now as the last surviving member of his regiment, he will need to rise to the challenge of the changeling invasion despite his age and infirmity. For not even the risk of death can keep the Royal Guard from rising in response to the bugle's last call.
Bugle Call : Alarm
Bugle Call : To Arms
Done in respect for Veteran's Day, and all those who laid down their lives so we might live free.
Chapters (1)