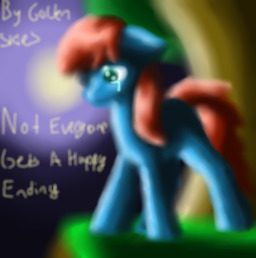 Source
Indigo Blossom, a young filly in Ponyville has been struggling with school, bullies, and life for the past few months. How much does it take to put someone over the edge? What does it take? How far does someone need to be pushed to be taken over the edge?
Reviews:
Joyous Apple: "I just read the last two paragraphs, and... oh my gosh the feels..."
1998alberto: "Wow, that was good. Like really good."
Dragonborne Fox : "I am entirely moved by this tale.
Excuse me while I go and purge out my tears from my eyes.
Well done."
Me: "ACK! I'm gone for two minutes, I come back, and everyone is crying."
Thank you to Dragonborne Fox for making the AMAZING new cover art. They also made the original cover art.
A short one-shot that I did just to test my abilities as a writer at writing something sad. Let me know what you thought I did good at/ what you thought could be improved. I wasn't about to go and write fanon about canon ponies. Also, this is not my OC, and this is not in anyway a self-insert.
Disclaimer: The topics discussed in this story are very serious. If you are experiencing any of these problems seek out a group that can help you deal with these problems. There are several here on FimFiction, as well as countless others across the web. The views expressed in this work in no way reflect the views of Golden Skies or his editors, nor do they support or commend any of the action of the characters in this story. Remember, that life always gets better.
Chapters (1)