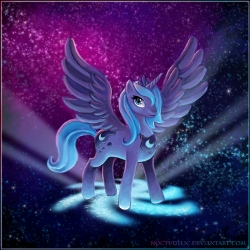 A science fiction story about how a fantasy world came to be. An alicorn foal awakens alone in a world that sentient life has long since left behind. This story follows Luna through her foalhood in the strange world, her quest for knowledge about who and what she is, and what happens when she finally finds her answers and makes the trip to the beautiful new world that her sister now rules.
Cover image: Luna in the Sky with Diamonds by Noctudelic
Author's note: This was my first story, and even though it's complete now, feedback is still very much appreciated. My biggest goal here is to continuously improve, so every two cents helps.
Chapters (16)