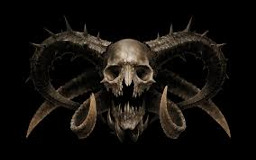 Set after Twilight's ascension, the previously considered senseless tribes of humans are holding their own against a powerful Griffin invasion set against their civilized homeland.
The humans, as they are, are little more than savage beast with honed killing instincts. The brutality of these abominations is second to none. They fight amongst each other and sell the defeated males into slavery for things that they couldn't produce on their own.
However, they now seem more organized and united now than ever. Which has Celestia worried about a possible growing threat.
Twilight is sent on a mission to learn as much she can about the humans and their tribal ways, and as she continues her journey she begins to unravel the mysteries of a species that perhaps, should have stayed dead.
++++++++++
Twilight is set as the main character in this adventure and is told through her point of view... more or less.
Not 100% percent sure where I'm going with this story, but that's part of the fun, and I know I'll get there eventually.
The pic was made by a, BLAZ PORENTA, to my knowledge, at blazporenta.blogspot.com
Also, this is my first real story here, so please give me criticism and your opinions on the story.
-------------------
Considering rewrite
+++++++++++
And also I want to say thanks to mikemeiers my editor
Chapters (19)