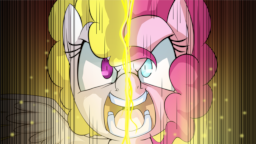 Pinkie Pie awakens one morning to find a strange lump on her back. She doesn't think it's a big deal, but as time goes on it grows and bizarre changes begin to take place inside her.
In Ponyville, something is stalking the citizens. Can anypony stop what's happening before it's too late and their world is irrevocably changed? Of course, you can only save the day if the danger hasn't found you before you even know it's there.
Written for Write-Off's Nightmare Night 'transformations' contest. Is meta-horror a genre? Well, it is now.
Featured on EQD - 25th March 2014
Now with a full-cast audio reading by TheLostNarrator: SUCH WONDERFULNESS WE HAVE NEVER YET SEEN!
Chapters (1)