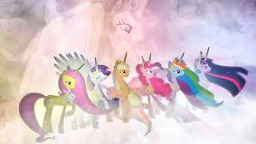 Source
When Princess Celestia calls Princess Twilight over to Canterlot to 'talk', Twilight knows something's up. She brings her friends, but Celestia requests and audience with Twilight. Alone.
Celestia explains about the great alicorns of old, and how an alicorn's spirit is different from other ponies'. Alicorn spirits live forever, but they need a host once their original body dies.
One of the hosts were in that room.
Follow Princess Twilight as she goes on a quest of self discovery... to defeat the greatest villain of them all.
Chapters (11)