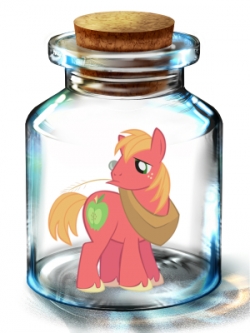 There aren't many things in whole of Equestria capable of truly angering the gentle Macintosh Apple. Were somepony to ask the stallion, he could very well recite all the instances that had happened - and all of them were either world-wide catastrophes or millennial prophecies.
Even then, he could simply forget it by letting his mind lose itself in the day-to-day farm life. It was a simple solution, as life would prove time and time again.
But this week seems hell-bent on proving just how sheltered Mac had lived his life. An unfortunate chain of events following another, the Apple stallion will be forced to face his present phobias, future frights and past phantasms.
(( Fic Image note — I managed to scavenge it off 102th page of Ponibooru with no creditable author. If this image belongs to you, prod me and appropriate action shall be taken. ))
Chapters (8)