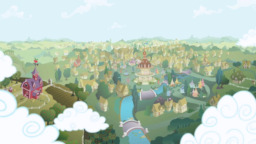 A story about a pegasus with a huge secret. He comes to Ponyville with many hopes and dreams. Will they be fulfilled? Or will he be shunned like every other place he has been?
Spike is tired of being small. He barely has grown since in Ponyville. He also wishes things will be different for him. He never really gets a chance to prove he is helpful whenever he feels it counts. However, that suddenly changes when he makes a new friend.
More characters are included besides the ones shown. Lengthy chapters.
Comments always welcome!
Chapters (5)