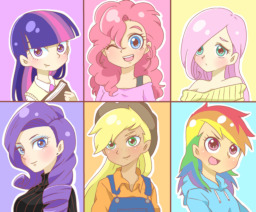 Twilight Sparkle is new to her high school. It's not like a very sophisticated school she thought she would attend. As a matter of fact, it has a low rating. So low, the core of the Earth is at least 3 yards higher. There are athletes, party freaks, fashionistas, bad-ass students, and more. And the girl who rules it all is one of the most hottest girls in school.
Just craptastic.
Twilight hates it here, but she meets 5 girls who hate it even more. Together, they might just turn that school in the right direction. If only the dark side doesn't get in her way.
Humanized Ponies (of course). Have fun!
Chapters (7)