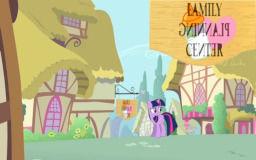 There's a special clinic for unwed mares who want to have a foal. Everypony knows it exists, even if nopony really wants to talk about it--or to be seen visiting it.
It's called the Family Planning Center, and today, Twilight Sparkle is going there for the very first time.
Update, 23 October 2013:
The "Planningverse" is now officially open, and as such, this story has been retagged "Incomplete", as myself and others will be expanding upon the basic concept here within the core story.
(Rated Teen + Sex for obvious reasons, but this story is not technically clop.)
Chapters (8)