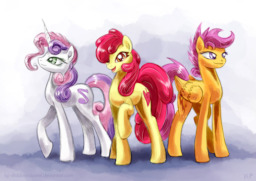 Source
Have you ever wondered what does the Cutie Mark Crusaders be like when they turn into teenagers?
Well.. Like every other filly of their age, they start to see colts in a new light. Girls, who found colts gross and mean sometime ago, find that they are now grown up and handsome, and they make the young fillies blush and giggle.
SAD marking for Scootaloo chapter. (Nothing too bad though.)
The story follows each one of the three CMC's, in their own chapter, that will tell how they met their very special someponies.
(Pic totally not made by me. All the credit goes to awesome KP-ShadowSquirrel
And thanks Cackle Tear, for coming up with a better title for my story!
Chapters (4)