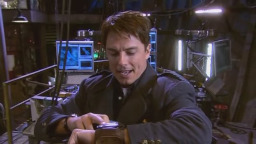 Source
It is the 52nd century, and Roger is still living with his parents at the age of 26. This isn't because he's a loser, it's because by this time there aren't any other humans.
Well, at least there's none anywhere near.
With the fact that there are no more humans bearing down on him, and the idea that they won't be able to survive forever alone, Roger has started a project to try to travel forward in time. Evolution will have surely helped create a new species that can help them out, right? Two hundred million years into the future, he comes into a world that he knows nothing about.
He has to find a way to integrate into this society, if he even wants to be a part of it, before he can bring his parents. But how will the inhabitants react to him?
Forgot to give you the names of my beautiful editors.
http://www.fimfiction.net/user/Planyx
http://www.fimfiction.net/user/Agaris
Chapters (10)