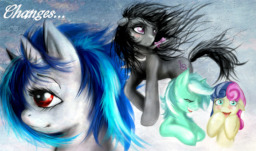 Romance
Slice of Life
---
After rising to stardom following Rarity's first, poorly received fashion show, Vinyl Scratch struggles to adapt to the higher class of life celebrity status bestows. Her personality and own moral values do not mix with the fake, corporate ideals of her agent, and her sponsors are only interested in her as long as she conforms to their expectations. Her life is barely her own and soon she will have to decide what's more important; her existing relationships, her fame and fortune, or perhaps something unexpected in the form of a refreshingly grounded Canterlot Elite who just invited her to breakfast during the Canterlot Music Convention.
A Vinyl Scratch x Octavia story where the two Ponies involved don't instantly form a romantic relationship the moment they meet, and instead allows it to grow over time with good old character development.
All criticism is welcome, and of course some spoilers follow in the comments below so please read cautiously.
Mega thanks go to Cruel September for her fantastic cover art for the story. Go show her lots of love, she's an amazing artist. http://cruelseptember.deviantart.com/