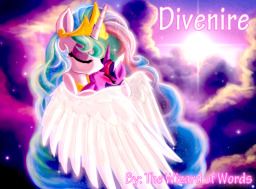 Princess Celestia, Regent of the Sun, has long guided the ponies of Equestria with a gentle and caring hoof. Never once did she allow herself to be swayed by thoughts of power, nor did she turn away from her subjects in their times of need. A ruler rightfully adored, she has helped an uncountable amount of ponies with their lives, finding their dreams, and fulfilling their destinies.
But comes the day she had long dreaded, but never feared.
Twilight Sparkle, her dutiful and precious student, has fulfilled her destiny and has become a new princess for Equestria. With her new role comes many responsibilities, but for a curious mare such as herself, so to come the questions. What does it mean to be an alicorn? What does it meant to be a princess? But more importantly than anything else, why is Princess Celestia an immortal, but Twilight Sparkle not?
It is a question the Princess of the Sun must now answer. Her last secret to be told to her greatest student.
Chapters (5)