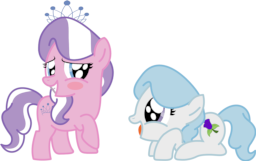 Source
Diamond Tiara had recently gotten her fabulous cutie mark, and she absolutely loved rubbing it in the faces of her less fortunate class mates, especially the blank-flanks that went to her school.
With her cute-ceañera just around the corner, she decides to mock them by inviting them to her party, though after teasing Sweetie Belle just a little too much, the unicorn filly's still-developing powers cause Diamond to receive a Double, one with a personality almost completely opposite to hers.
Starts right before "Call of the Cutie"
Chapters (4)