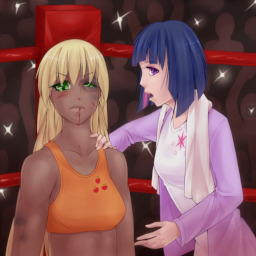 Source
"All it takes is a bit of hope and grit to make things happen." That's a mantra Jack Apple has lived by for years, and one that's served her well. Ever since what happened in her hometown, hope and grit are about the only thing that have kept her going, spending dollars and making dimes as a boxing trainer in Manhattan.
Twila Shields is a new face in town from the almost mystical city of Camelot. What she lacks in social grace, she makes up for with an almost uncanny intelligence.
Together, they soon find themselves on the cusp of changing history. It all comes down to one fight against the champ, and a bit of hope and grit.
Inspired by the Rocky series (Obviously). Special thanks goes to Bookplayer for the initial set-up of the idea, and for being a swell pal. Go read her stuff, yo.
Addational thanks goes to Jake the Ginger and Peregrine Caged for editing. Couldn't do it without you, bros.
Chapters (2)