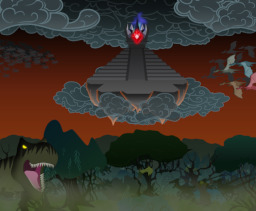 In Equestria there has been long lasting harmony, and everything seems fine. However there is more to this than meets the eye. In the shadows, a new evil is patiently waiting to strike at its new prey. Soon this peaceful land will be the battle field of an ancient war between two legendary species that have not clashed in 70 million years...until now.
This the story of how everything has and will come to.
Twilight is going through a difficult time, not only about her destiny but a more personal termoil.
Strange occurencess happen across Equestria.
Familiar faces return
Will this be the end of Equestria as we know it?
Who can possibly save them?
Why is this description so cryptic?
The truth will be revealed.
(Content will most likely reach high levels, please read A/N for further information)
Chapters (2)