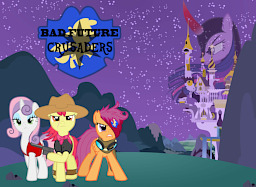 It was a night that will forever be burned into the memories of everypony. One fateful night in Equestria everything changed. The princesses who had ruled over the world with kindness and heart were gone, and a new ruler had taken their place.
Years have passed since that event. Ponies have grown up, aged, and moved on with their lives. Equestria has become a very different place over the span of these years.
Our story begins when a face resurfaces in Equestria. When a weathered, scarred, but familiar face steps into the light.
This is the fanfic based on Astringe's Bad Future series on DeviantART. He did some great designs of the characters, so make sure you give that gallery a peruse before you read the fic.
Also worth mentioning, he's been nice enough to plop any pics he does based on chapters I've written into this separate gallery, so there will be less spoilers for readers just jumping in to the story.
NOTE: The canon of my story picks up at the start of Season 3, where it begins to diverge away from the canon of the show. I've never read the IDW comics nor have I seen Equestria Girls, so the events of my story aren't canon at all with them.
Now has it's own TVTropes page!
http://tvtropes.org/pmwiki/pmwiki.php/FanFic/BadFutureCrusaders
Chapters (43)